The Learning Resource Exchange wins an IMS Award at Learning Impact 2009!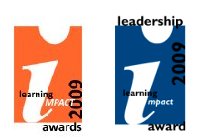 European Schoolnet is pleased to announce that its Learning Resource Exchange (LRE) for schools received an IMS Learning Impact 2009 Leadership Award in Barcelona on 13 May in the category for Best Cross-National Solution


David Massart, European Schoolnet's Senior Manager for IT Research & Development, welcomed the award and said, "European Schoolnet is delighted to receive this recognition from IMS for the work we have been doing in order to expose content in the LRE federation that 'travels well' and that can cross national and linguistic borders."
The LRE was officially launched as a publicly available service to schools by European Schoolnet and its supporting Ministries of Education in December 2008 http://lreforschools.eun.org. Currently it offers over 130,000 learning resources and assets including content from 17 Ministries of Education in Europe and a growing number of Associate Partners both in Europe and the US.
At Learning Impact 2009, Jim Ayre, Senior Adviser delivered a presentation on how the LRE has been developed in a series of large-scale projects funded by the European Commission. This work is now being taken forward in the ASPECT project which is developing best practice concerning how standards and specifications can be applied to LRE content.
During the IMS conference, Warwick Bailey, Director of Icodeon, a partner in the ASPECT project, also provided a presentation on the Icodeon Common Cartridge Platform and Player. Content using this new IMS specification will be tested with schools in the ASPECT project in order to determine whether Common Cartridge improves the usability and re-usability of LRE learning resources.
For further information, contact:
Jim Ayre

About European Schoolnet (EUN) European Schoolnet (EUN) is a not-for-profit organization supported by 31 Ministries of Education in Europe dedicated to supporting schools in the best use of technology in learning, promoting the European dimension in schools and education and improving and raising the quality of education in Europe. Created in 1997, it has coordinated a series of major projects over the last seven years concerned with the technical and semantic interoperability of educational repositories and content. For more information, visit http://www.eun.org and http://www.aspect-project.org
About IMS Global Learning Consortium (IMS GLC) IMS Global Learning is a global, non-profit, member organization that strives to enable the growth and impact of learning technology in the education and corporate learning sectors worldwide. IMS GLC members provide leadership in shaping and growing the learning industry through community development of interoperability and adoption practice standards and recognition of the return on investment from learning and educational technology. For more information, including the world's most comprehensive set of learning technology interoperability standards, information on the annual Learning Impact conference and awards program, and free community resources for learning technology leaders, visit http://www.imsglobal.org.
About Icodeon Ltd. Icodeon is a dynamic e-learning enterprise based in the "Silicon Fen" around the University of Cambridge in the UK. The company is a member of ADL SCORM technical working, a participating member of IMS Global Learning Consortium and member of the IMS Common Cartridge Alliance. Icodeon has developed the "Icodeon SCORM Player" and is currently developing the "Icodeon Common Cartridge Player", an implementation of IMS Common Cartridge designed to be integrated into new or existing e-learning systems. For more information visit http://www.icodeon.com