ASPECT LRE Technical & Semantic Interoperability Workshop in Brussels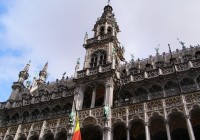 The European Schoolnet Learning Resource Exchange and the ASPECT Best Practice Network invited all interested parties to a two-day workshop at the EUN Office in Brussels on 15 and 16 June 2010.
The workshop was intended for developers, repository administrators, and technical and semantic interoperability specialists of the represented organizations.
The agenda and presentations from this event are available at
http://www.aspect-project.org/node/89
The ASPECT LRE Technical & Semantic Interoperability Workshop was conducted in two parts. During the first part, each participant presented their repository infrastructure and the metadata scheme used to describe their digital resource collections. Each presentation was followed by a discussion focusing on the interoperability problems that, according to the other participants, need to be addressed in order for them to access the presented collection. During the second part of the workshop, interoperability tools and techniques were presented and demonstrated as an introduction to a discussion aimed at elaborating a plan for actually connecting the participating repositories' infrastructures.
If you are interested in participating in similar future events please contact Dr. Elena Shulman(elena.shulman AT eun.org).