ASPECT workshop at CoLos Summer School June 2010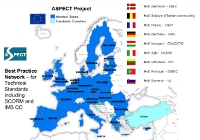 The ASPECT project and its findings were presented in Slovenia on 28 June 2010 in the framework of Colos Summer School, which is a traditional event for teachers in Slovenia. The Summer School lasted for 3 days, first day being dedicated to the ASPECT Workshop.

The presentations were recorded and are now available online.
Dr. Àgueda Gras-Velázguez, Project manager, European Schoolnet
Aspect - Standards and school pilots
Playback
Warwick Bailey, Director, Icodeon Ltd
IMS Common Cartridge Advanced Features. Publishing Digital Education Content in the Web 2.0 Era.
Playback | Presentation at Icodeon's blog
Summer School website (only available in Slovenian)