An ASPECT briefing at the Frankfurt Book Fair: Making Learning Content Standards Work for You!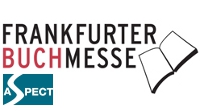 ASPECT project will take part in the annual Frankfurt Book Fair that takes this year place on 6-10 October. The ASPECT briefing "Making Learning Content Standards Work for You!" hosted by Young Digital Planet will be organised on 7 October and is open to all participants.
Standards and specifications for educational content can be difficult to understand and even harder to apply effectively, especially in a world where user-generated content and Web 2.0 tools are currently exploding. The ASPECT briefing will help the participants:
Understand how existing and emerging standards and specifications can best be applied to content aimed at schools
Learn how standards can add value to your own content
Hear how teachers respond to content standards such as SCORM and IMS Common Cartridge
With partners from 15 countries, including 9 Ministries of Education (MoE), four commercial content developers and leading technology providers, ASPECT brings together experts from all international standardisation bodies and consortia active in e-learning in order to improve the adoption of learning technology standards and specifications.
The briefing will address the following issues:
How ASPECT content partners such as Young Digital Planet are developing best practice approaches to implementing content standards such as SCORM and the new IMS Common Cartridge specification.
How 40 teachers have responded to using resources that have been 'packaged' by ASPECT content developers using both SCORM and Common Cartridge standards.
How publishers and content developers can benefit from ASPECT tools and support services that include: a Vocabulary Bank for Education; Application Profile registry; automatic translation service for LOM and content packaging formats; compliance testing; metadata transformer services; acces to standards' experts.
How you can participate in ASPECT workshops and plugfests.
Registration
Places on this free briefing are limited. So please confirm your participation immediately with Agnieszka Matras, AMatras[AT]ydp.com.pl
Agenda
7 October 2010, 12.00 – 16.00
12.00 --- Registration and buffet lunch
13.00 --- ASPECT background and objectives
13.15 --- Using ASPECT tools to implement learning content standards - from content creation to delivery. Lars Ingsman, UNI•C
13.45 --- How publishers can benefit from implementing learning content standards – the experience of Young Digital Planet in the ASPECT project. Artur Polanski, Young Digital Planet
14.15 --- What teachers are saying about learning content standards – results of the ASPECT work with 40 schools in Belgium, Lithuania, Portugal and Romania. Àgueda Gras-Velázquez, European Schoolnet
14.45 --- How do standards affect the educational publishing industry? Panel discussion
16.00 --- Close of briefing
Venue

The ASPECT briefing is just a 7 minute walk from the Frankfurt Book Fair at the Mercure Hotel:
Mercure Hotel & Residence Frankfurt /Main
Voltastrasse 29
Frankfurt / Main
+49 69 79260
Website

View Larger Map
Further information
ASPECT project http://www.aspect-project.org
Young Digital Planet http://www.ydp.eu
Learning Resource Exchange information http://lre.eun.org
Learning Resources Exchange service for schools http://lreforschools.eun.org
European Schoolnet http://www.eun.org
Frankfurt Book Fair http://www.buchmesse.de