SCORM - Sharable Content Reference Model
Table of contents for SCORM content packaging
This companion video to the "Introducing IMS Common Cartridge" video explains the main features of SCORM technology and how this standard is particularly suited to self-paced training.
RELOAD Editor
The ADL SCORM 2004 RELOAD Editor Version 1.1 is a content package and metadata editor. With RELOAD Editor, you can create, import, edit, and export SCORM-conformant content packages.
This version of RELOAD supports SCORM Version 1.2 and SCORM 2004 3rd and 4th Edition content packages. RELOAD Editor updates include:
* Integration of the SCORM 2004 4th Edition Sample Run-Time Environment (SRTE) Version 1.1.1: You can automatically import a RELOAD package using the RTE Package View menu option if the SRTE is installed.
* Integration of the SCORM Learner Assessment Generator (SLAG):
You can add a SLAG exam by right clicking the resources node and by choosing "Add Quiz".
* Support for Healthcare LOM metadata
* Human-readable manifest files.
* Forcing the ".zip" file extension when zipping a content package
* Support for additional character encodings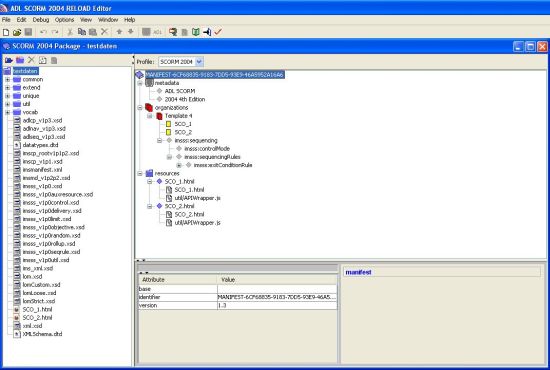 RELOAD Editor NEW VERSION!(Website to download tool)
MOS Solo
MOS Solo is a Windows application to create learning courses, presentations, assessments and surveys. The courses created are SCORM conformant and can be viewed in a LMS or directly on the Internet.
Watch this introductory video: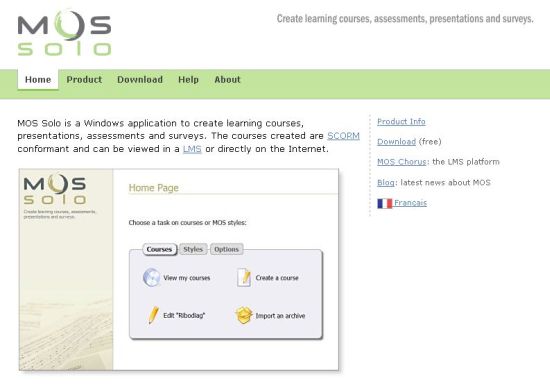 MOS Solo Editor (Website to download tool)
More:
Learning Essentials for Microsoft Office 2.0
Learning Essentials for Microsoft Office 2.0 provides education-specific tools for students and educators to get the most out of their familiar Microsoft Office applications.
Curriculum-based templates and toolbars for Microsoft Office Word, the Microsoft Office PowerPoint® presentation graphics program and Microsoft Office Excel® spreadsheet software help students and educators get started, stay organized and successfully complete high-quality work.
Learning Essentials 2.0 includes SCORM (Sharable Content Object Reference Model) tools for authoring additional content and e-learning resources, a smaller network-based installation and centralized server administration.
Learning Essentials is available only to Microsoft Academic Volume Licensing customers. Academic customers with volume licenses for Microsoft Office 2007, Microsoft Office 2003 or Microsoft Office XP, Professional or Standard editions, are licensed to use Learning Essentials at no additional licensing cost.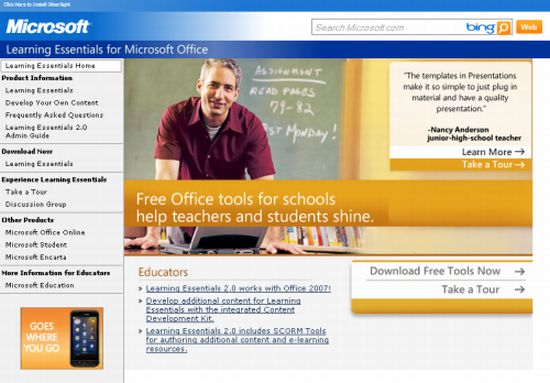 Learning Essentials for MS Office Products (Website to download tool)
Scorm2CC is a utility for converting packages of e-learning content from the ADL SCORM Package Interchange File (PIF) format to the IMS Common Cartridge format.
Scorm2CC operates in a batch mode: all SCORM PIF files within a given directory are converted.
Scorm2CC works with SCORM 1.2 and SCORM 2004 PIF files. If the SCORM PIF file contains mulitple organizations, only the default organization is converted.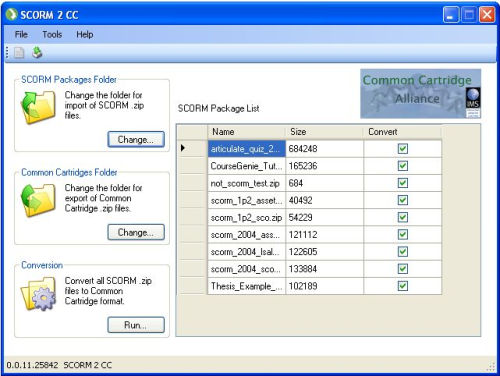 SCORM2CC Converter by Microsoft (Website to download tool)
Finding a place to test your SCORM and AICC content is difficult. If you don't have an LMS (and many of you don't), you need somewhere easy to make this stuff go.
ADL Test Suite
The SCORM 2004 4th Edition Version 1.1.1 Test Suite (Self Test) contains the compliance testing software, procedures and supporting documents for organizations to perform self-testing on LMSs, SCOs and Content Packages.
ADL Test Suite is the official test environment for validating SCORM packages. It's for a local installation and works with the current version of Java.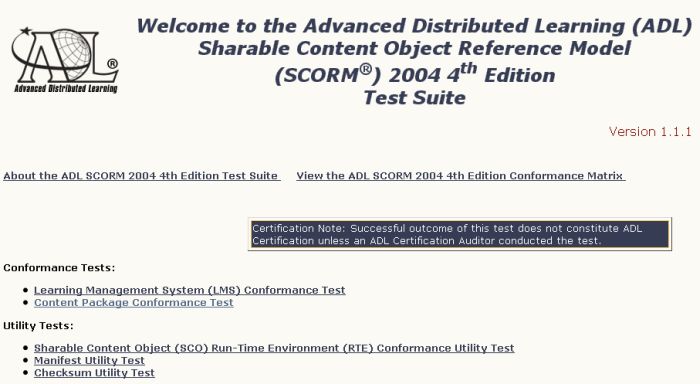 ADL Test Suite for SCORM(Version SCORM 2004, Website to download tool)
Icodeon SCORM Player
The Icodeon SCORM Player is a software module that enables vendors to rapidly add full SCORM functionality to new or existing e-Learning systems.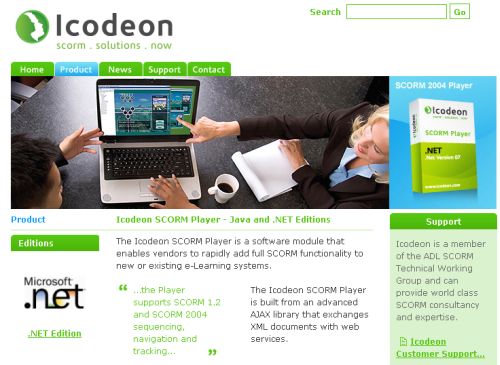 For more information contact Icodeon ()!
Demo Icodecon SCORM Player
Test Track (now SCORM Cloud)
SCORM courses can be uploaded and launched in Test Track. After starting a course a new windows opens and the learner can work. This new version of Test Track allows to invite learners. SCORM Cloud is built to be integrated in other applications. From Wordpress to Moodle to whatever application you're creating, SCORM Cloud allows you to import and deliver SCORM and AICC content in the context of your application without even having to open the thousands of pages of mundane specifications.
See the picture below with a running SCORM course in a new window.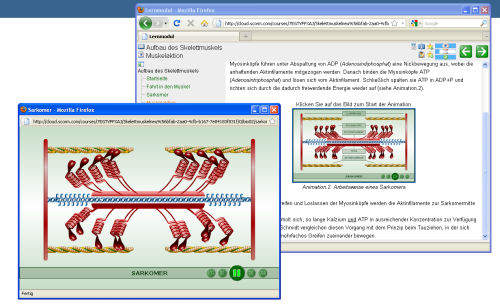 SCORM Cloud for SCORM content packages (Web-based tool)
MOS Player
MOS Player is the free software provided with the MOS Chorus platform to allow your travelling learners to study where they want and at their own pace.
MOS Player offers your travelling learners the possibility of following courses and reading the latest announcements on the MOS Chorus platform.
Learners download lessons from the system, play them locally offline, then with one click synchronise their progress and results next time they connect to MOS Chorus.
Learners can stop their course at any moment and pick up where they left off.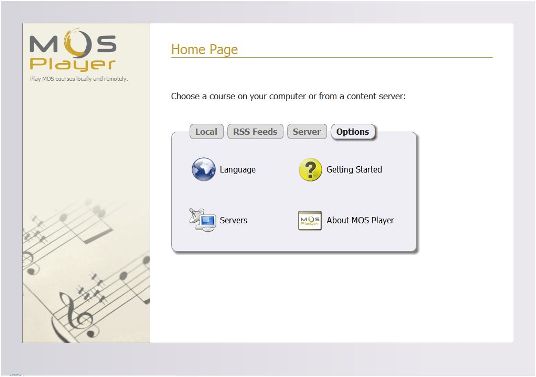 MOS Player (Website to download tool)
For detailed information and instructions see deliverable 3.3 and deliverable 3.6 about tools!
How can publisher get a SCORM Certification?
If the publishers want to get certificated, they can pass the ADL SCORM certification program. For more information follow the link:
ADL SCORM® Certification Program