Common Cartridge
Table of contents for Common Cartridge content packaging
This short, five-minute video explains the main features of the Common Cartridge standard and how it is particularly suited to 'blended learning' situations.
MIR
The goal of MIR is to provide an open source reference implementation of the IMS Common Cartridge Specification in the Microsoft Platform. As a user you can import cartridges, launch cartridges and author cartridges. This is a sandbox instance of the MIR project and data will be reset periodically.
This open source project uses ASP.NET, C# and Microsoft SQL Server. The source code can be downloaded from www.codeplex.com/mir and is Copyright IMS under the New BSD License. This project is a joint effort between IMS, Microsoft and LearnGauge.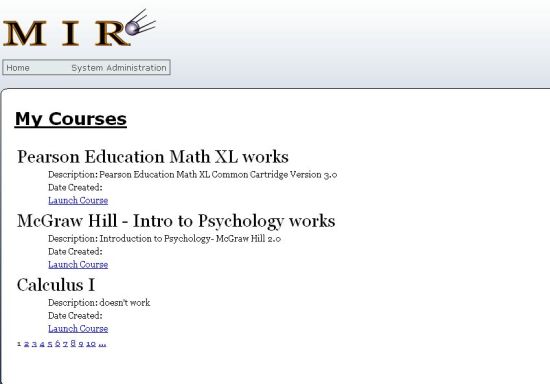 MIR Common Cartridge System (Web-based tool)
IDE Authorinig tool and player
Learning Components Inc. has released their latest version of the the LC IDE (Instructional Development/Design Environment) and accompanying LC Player. The LC Platform features drag and drop sequencing along with rules driven runtime adaptation based on learner interaction and performance. All this data is captured for future analysis. Instructors have full access to live learner monitoring, sequence injection and a dashboard view of all data collected.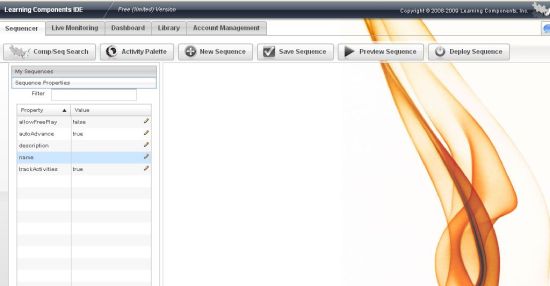 Learning Components Authoring Tool (Web-based tool)

Showcases- Tutorials
The Learning Components IDE and Player is a platform for third party developers and instructors to build upon. Follow the link to the showcases and watch the screencast tutorials!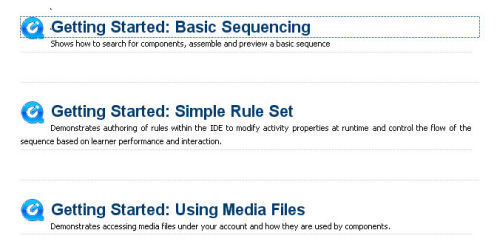 Tutorials: Getting started...(Web-based tool)
Common Cartridge Builder
The Common Cartridge Builder is an Adobe AIR application that allows you to easily and quickly assemble a Common Cartridge by dragging and dropping files from your file system onto the application. You may then rename and/or rearrange the file structure. This applications is Beta and provided AS IS.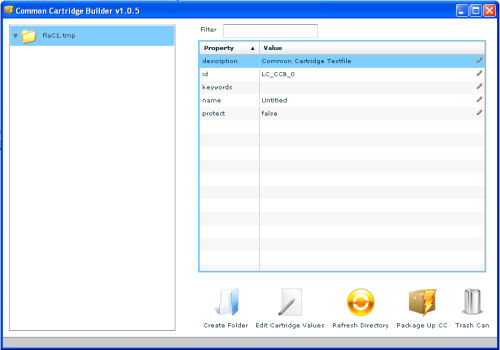 Common Cartridge Builder, a Drag and Drop Tool (Website to download tool)
Download here Common Cartridge Tutorial
Commercial Tool: SoftChalk V6
SoftChalk™ is a powerful web lesson editor that lets you easily create engaging, interactive web lessons for e-learning classroom. With SoftChalk it's possible to create professional-looking, interactive content without knowing any HTML, or programming.
SoftChalk automatically packages your lesson for delivery via your LMS (Learning Management System), or via Internet, Intranet, or CD-ROM. Common Cartridge, standard zip formats, as well as SCORM (1.2 and 2004) packaging formats are supported. Lesson Packaging ensures that your content is easily shared with colleagues and easily integrated into a variety of e-learning delivery systems.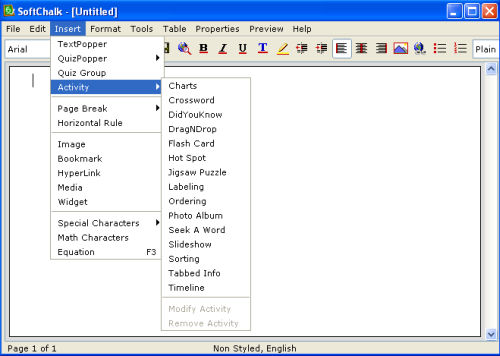 SoftChalk V6(Website to download tool)
To get a quick start with using SoftChalk, watch the pre-recorded videos: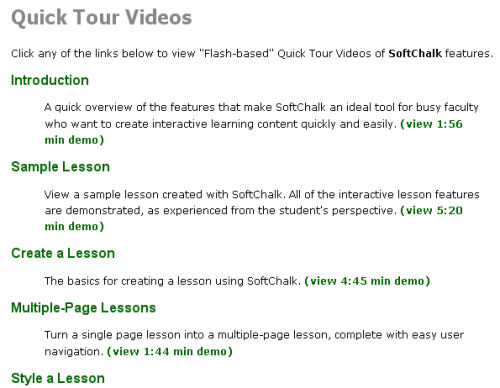 Quick Tour Videos
Scorm2CC is a utility for converting packages of e-learning content from the ADL SCORM Package Interchange File (PIF) format to the IMS Common Cartridge format.
Scorm2CC operates in a batch mode: all SCORM PIF files within a given directory are converted.
Scorm2CC works with SCORM 1.2 and SCORM 2004 PIF files. If the SCORM PIF file contains mulitple organizations, only the default organization is converted.
The SCORM2CC Converter was funded by Microsoft as an open source project, so
it is available from the Microsoft Open Source Project website called
"CodePlex".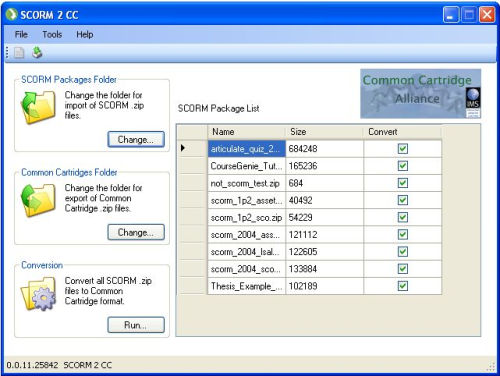 SCORM2CC Converter by Microsoft (Website to download tool)
Finding a place to test your SCORM and AICC content is difficult. If you don't have an LMS (and many of you don't), you need somewhere easy to make this stuff go.
IMS Common Cartridge testing tool
The CC testing tool is for validating cartridges. It is easy to use and can be installed locally. After extracting the zip-file, there are versions for Mac Linux and Windows operating systems in the folder. Choose the right version and start the application.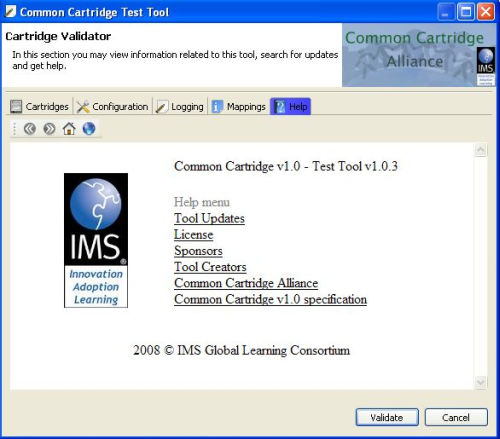 (Available only for project members of the Common Cartridge Alliance)
Icodeon Common Cartridge Platform
Common Cartridges can be uploaded to the Icodeon Common Cartridge Platform for playing them with the the Icodeon Cartridge Explorer. The Explorer can also produce code snippets to embed resources from a Common Cartridge into other web sites.


For access to the Icodeon Common Cartridge Platform contact Icodeon ()!
Icodeon Framework
For detailed information and instructions see deliverable 3.3 about tools!
A Sample Cartridge on Thermodynamics
The university of Ljubljana developed a sample Common Cartidge for physical class to use at secondary school. The lesson plan for teachers is a scenario for 3x45 minutes with instructions.
The cartridge can be downloaded here:Thermodynamics CC
The lesson plan can be downloaded here:Lesson Plan
To test it, the cartridge was imported into the LMS Moodle. The following screenshot presents the cartridge in Moodle. The three lessons are listed in the middle. Right side activities like "Forum" or "Quizzes" are available.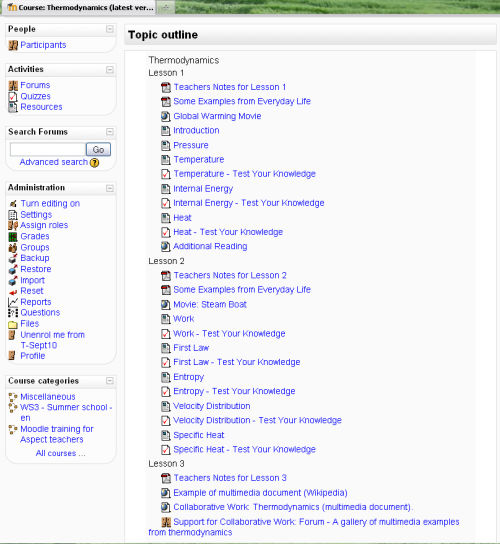 Institutions, companies and organizations
Participation in the CC Alliance is open to educational institutions, not-for-profit and for-profit organizations. This entitles you to:
* Use any of the resources made available from the Alliance website.
* Attend Testfests and other occasional meetings.
* Participate in the Common Cartridge Accredited Profile Management Group. (Note: voting in the APMG is restricted to IMS Contributing Members).
* Display the CC Alliance logo on your website and other documentation. (Note: use of the IMS logo is restricted to IMS Contributing Members).
* Apply appropriate conformance logos to products you offer which have successfully passed the corresponding conformance test.
* Participate in projects and other activities set up by the Alliance.
* Discounted registration fees for Learning Impact Conference.
Prices see here: www.imsglobal.org/cc/jointhealliance.cfm